By Geekmom
Last night I had a very odd dream.  I made huge (think African zombie marmot head size) chocolate chip fudge cupcakes and filled them with some white cream.  Now here is the odd part.  I made them inside the store while I was bored shopping.  Does this mean something?
Yesterday I made a buttermilk pound cake.  And as such, I am sharing the recipe with you as the African zombie marmots plotz and the ninja helper monkeys snore.  It is a quiet and incredibly humid morning in my part of the world.
Buttermilk Pound Cake
Set oven to 325 degrees.  Grease and flour a ten cup Bundt pan or tube pan.
Cream together the following:
1 c softened butter
3 c sugar
Add the following one at a time, mixing thoroughly after each.
4 eggs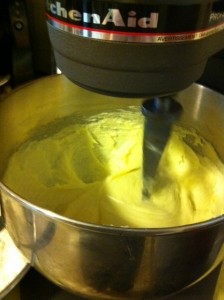 Mix together the following dry ingredients:
3 c flour
1/4 t baking soda
Mix together the following wet ingredients:
1 c buttermilk
1 t vanilla
Alternately add the wet and dry ingredients starting with and ending with the dry.  I normally divide the dry into three parts and the wet into two.  Dry-wet-dry-wet-dry.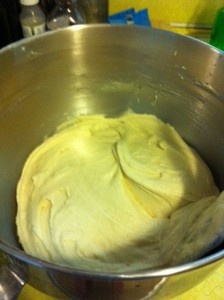 Place in the Bundt pan.  I smooth out the top and actually shake it a bit to settle it into the bottom.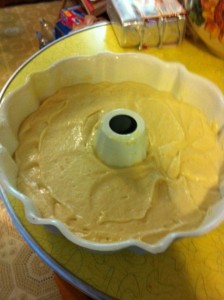 Bake 65 to 70 minutes or until toothpick stuck into the deep part of the ring comes out clean.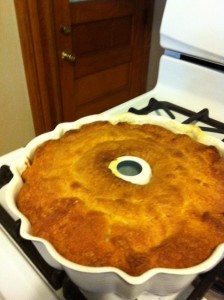 Cool 15 minutes and then invert onto plate.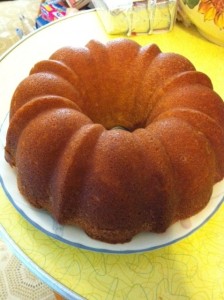 If you have a fancy Bundt pan, feel free to use it.  The bake time should be the same.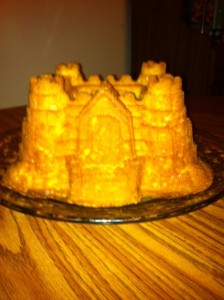 I also have a really good recipe for a chocolate pound cake.  It is made in the same way.  Cream the fats and sugars.  Add the eggs one at a time.  Combine dry ingredients and mix alternately with the wet.  I am putting this one up today as well.  (I owe it to K!  Make the pregnant lady happy!)
Chocolate Pound Cake
Cream together the following:
1 c butter
1/2 c shortening (aka Crisco)
3 c sugar
Add the following to the creamed mixture one at a time, mixing well:
5 eggs
1 t vanilla
Combine the following dry ingredients:
3 c flour
1/2 t baking powder
1/2 salt
5 T cocoa powder (not hot chocolate mix!)
Add the following alternately with dry ingredients starting and ending:
1 c milk
Place in a 10 c tube or Bundt pan that  has been greased and floured.  ( I use Pam baking spray.)
Bake for 75 – 80 minutes until toothpick comes out clean.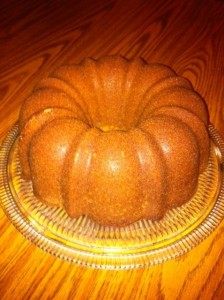 Now the hardest part of a pound cake – waiting.  They taste best if you seal them up in plastic wrap after they cool for 24 to 48 hours.  (They are actually best after 48 hours, but the ninja helper monkeys won't allow that to happen.)  I am not kidding.  Really.  It takes time for the flavors to mingle properly.  It also results in a moister cake that has this amazing sugar crust on the bottom.  Ack!  That is the very, very best part.  SUGAR CRUST!!!!!!!!