By Geekmom
If you have spent any time buying meat lately, you will have noticed that the cost of everything is going up.  My father, a butcher all his life, and I have discussed this in detail.  Poor cuts of meat or good cuts… it all costs a great deal more than it did a year ago.  Despite this, there are some things for which I must splurge.  Frankly, when I do wish to spend the extra nickel… or dollar, I go to Catullo's.  They have things there that make my heart sing.  What is even nicer is that this is a real butcher shop in the traditional sense. They support local.  You have to respect that the money spent there is not going to South American cattle ranches.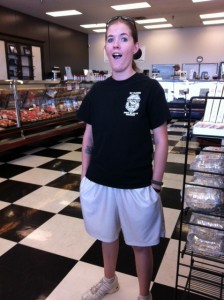 This is a picture of my honorary daughter, Gamegirl, when she came into town two years ago at Catullo's.  I just had to show her its greatness.
One particular thing I love there is their Country Sausage (I think that is what it is called… I am old and the memory is going.  It is their not Italian sausage.)  I love using it to make Sausage Gravy.  It is lean enough that I don't even need to take off extra grease.  In other words… it makes my life easier.  Better yet, it tastes amazing.  Mmmmmm.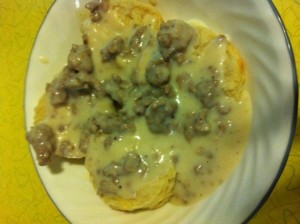 I twittered this picture to Danny Catullo's account and promised him the recipe.  After too long a time, I am finally getting to it.
Sausage Gravy
1 pound bulk breakfast sausage
4 1/2 T all-purpose
2 1/4 c milk
1/2 t freshly ground black pepper
1/4 t salt
In a large skillet, cook the sausage over medium heat.  (I use a non stick pan.)  Make sure to break up the meat while you are cooking it.  Using a slotted spoon, transfer meat to bowl.  Add the flour to the sausage grease.  If using a fatty sausage, only use 2 T of the grease.  Heat the grease and add the flour.  Cook and stir about 2 minutes.  Whisk in the milk and simmer until thickened.  Stir in the sausage, salt, and pepper.  (I always add a little more pepper as I really like pepper.)
Spoon over split biscuits.
Buttermilk Lard Biscuits
*Note:  Working with Lard is nothing like using Crisco.  Lard is tetchy.  Once the liquid goes in, overworking it will give you hockey pucks instead of biscuits.  My mother taught me how to use it and frankly, I love the taste of it.  AMAZING.  If you are scared, just use Crisco.  Not as amazing.)
1.  Mix together:
2 c flour
2 tsp baking powder
1/4 tsp baking soda
1 tsp salt
2.  Cut in 1/4 c lard.  You can work this as long as you want and it won't turn into hockey pucks.
3.  Make a well in the center.  Pour in a third of the buttermilk.  Dust the lard mixture over the buttermilk.  Repeat until it is somewhat layered and then stir until just barely mixed.
4.  Put the dough on a floured board and knead lightly about  six times until it is just pulled together.
5.  Roll it out to desired thickness.  The old Betty Crocker book says 1/2 inch, but I like them a bit thicker.  Cut into desired shape.  Place just touching on a cookie sheet.  (This helps them to be higher.)
6.  Just pull remaining dough together and keep cutting them out.  The last one I just let look like Frankenstein's biscuit because I don't want to work the dough too much.  Amazingly, they all want that one!
7.  Bake in a 450 degree oven for 10 to 12 minutes.
As a final comment, I have to say it… Catullo's Country Cured Bacon is a drool worthy addiction!  I put it in everything.  Cheers to the local butcher!