By Geekmom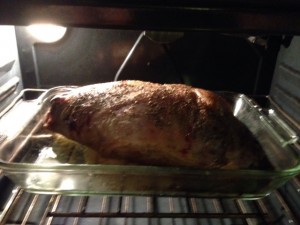 So tonight we had a leg of lamb.  I have never made one before.  Like with many things, I looked at a few recipes and used what I liked from them.  I really didn't have real measurements.  This is a close approximation.
Slow Roasted Leg of Lamb
1.  Set oven to 250 degrees.
2.  Mix together 1/2 c. of olive oil, 3 T. oregano, 2 t. onion powder, 2 t. garlic powder, salt, and pepper to taste.  Rub this all over the  leg of lamb.
3.  Place in pan and bake for 4 hours.
4.  When you take it out of oven, cover it with aluminum foil and let rest until ready to cut.