By Geekmom
The first reason it is a sad day to be an AZMIDC (African Zombie Marmot in Dog's Clothing) is that the eldest one had to go to the vet today to get his annual checkup and shots.  He is fine, but the vet was not concerned about his desire for brains at all.  Perhaps he has already lost his to them.  He had his shots and is good for another year.
The second reason it is a sad day to be an AZMIDC is that I made brownie bites and as they are chocolate, they don't get to lick the pan.  The others in the house vie for that honor.  Perhaps one day I will have to make the ninja helper monkeys fight for their right to eat raw brownie dough.
Now it is time to discuss the brownie bites.  If you do not like fudgy brownies and are firmly in the cakey brownie fan club, stop here.  *swipes hand* These are not the brownies you are looking for.  On the other hand if  the thought of a brownie that has more sugar than flour in it makes you drool in anticipation, these are the brownies for you!  As well, they also have chocolate chips in them – just in case you need more for your chocolate fit to calm.  I am just giving you the basic recipe; the extra steps to make them bite size and to fill them with icing is more than any sane person would normally want to do.  (Remember, I need to make nine or so dozen of these.  If nothing else points to the state of my mind, that should.)
Fudgy Chocolate Chip Brownies
1/2 c butter
1 pkg chocolate chips (12 oz)
1 1/2 c sugar
1 1/4 c flour
1 tsp real vanilla
1/2 tsp baking powder
1/2 tsp salt
3 eggs
Heat oven to 350 degrees. Grease 13x9x2 inch pan.
Heat butter and 1 c of chips in 3 quart saucepan over low heat stirring constantly until melted.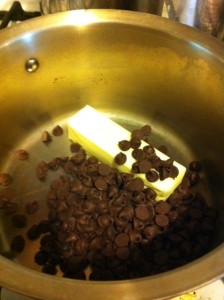 Stir in sugar, flour, vanilla, baking powder, salt, and eggs until smooth.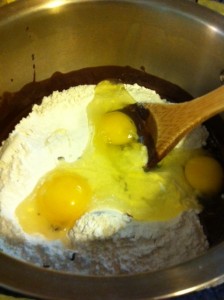 Stir in remaining chocolate chips.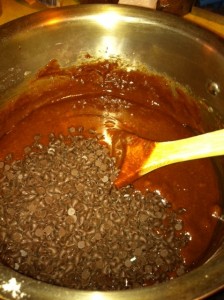 Spread in pan.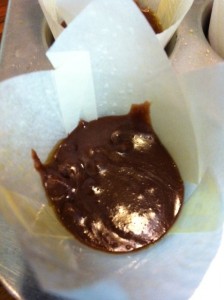 Bake 30 minutes or until center is set.   The bites bake for about 12 to 15 minutes.  Cool completely before cutting. Store tightly covered or they dry out.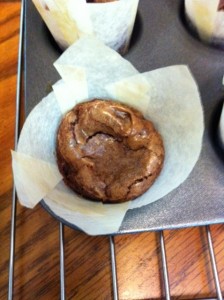 And here is the finished Brownie Bite!