By Geekmom
In 1999, I attempted to create a mutated pumpkin bread recipe to win the Canfield Fair's baking contest in that area.  I spent most of a summer working on the recipe and although everyone who tried it liked it, I didn't even place.  Soon after I found a pumpkin bread made with oatmeal that became the go to recipe.  That one I worked on for six months was left in my experimentation notebook and was never touched.  It was that is until today.  I liked the muffins that I made a few days ago so much that I wanted to make a batch of pumpkin ones and dug up the old recipe.  I made them this morning.  I still need to work on wedding cookies, but that should go quickly I think… I hope.
Here is the recipe of today though!
1999 Pumpkin Bread Experiment
Set the oven to 350 degrees.
Grease and flour 2 loaf pans, 6 mini loaf pans, or line 2 1/2 dozen muffin cups.
Cream together the following:
2/3 c Crisco
2 c sugar
2/3 c brown sugar
Add and mix the following:
4 beaten eggs
2 c pumpkin or one 15 oz. can of pumpkin
2/3 c water
Mix together the following and add:
3 1/3 c flour
2 t baking soda
1/2 t baking powder
1 1/2 t salt
1 t cinnamon
1 t nutmeg
1/2 allspice
1/2 t cloves
1/4 t ginger
Add 1 c chopped nuts.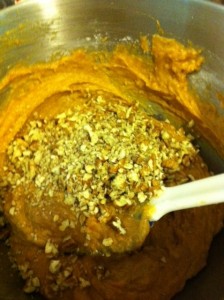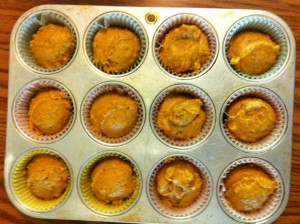 Place in the loaf pans and bake 1 hour.  If you are using mini loaf pans, bake 45-50 minutes.  If you are making muffins, bake 30 minutes.  If you wish, glaze with the sugar glaze after they cool.